Yes, I'm daring to dive in to this band's discography: Korn. They were one of the most important metal bands during the 90's and that's reasonable. Creating a style and starting a whole different genre was what they did and that's not something easy to achieve.
Well, records like Rage Against the Machine's self-titled effort and Faith No More's "The Real Thing" might have created the base-sound for this genre but what Korn did with their first record was a landmark. Alongside with Deftones (Adrenaline, 1995), Slipknot (Slipknot, 1999) and Limp Bizkit (Three Dollar Bill Y'All, 1997), Korn's first step created a whole different genre.
With their latest release "The Nothing", Korn has 13 full lenght records in their collection. Ranking them will not be easy and among 13 records, some of their great records will end up on 6th-8th row. That doesn't mean that records are not good. With just few missteps, Korn created a great discography. So, let's dig it.
13) Untitled (2007)
Well, this was a wrong decision for Korn. Drum works shared between two drummers and band didn't care much about the production. They ran into many problems during this recording and I'm glad that they were still capable of creating a decent songs like "Evolution" and "Innocent Bystander" (which is a very underrated song). But these two songs were not enough to save this effort. Experimental elements on Untitled didn't pay off.
Check out:
Evolution
Innocent Bystander
12) The Path of Totality (2011)
This record was an obvious misstep but they still did it. Korn's process for reinvent their sound with dubstep and electronic elements were disastrous decision for many of their long time fans. Well, that includes me also. I have to admit, "Narcissistic Cannibal" is a great song and if rest of the album were that good, I would clap the hell out my hands. But unfortunately, they were not. Tracks like "Chaos Lives in Everything" and "Way Too Far" received some good critics but I couldn't feel the same way. The Path of Totality full of fillers.
Check out:
Narcissistic Cannibal
Get Up!
11) Korn III: Remember Who You Are (2010)
After few experimental records and the failure of "Untitled", Korn decided to go back to their roots. They tried to catch their old sound from self-titled and "Life is Peachy" era. To be more precise; they wanted to record something so similar to their early works but the result was just a "wannabe". Raw guitar sounds, punchy bass and popping drums are not enough to recreate an atmosphere of their first years. The band also realized it but it was too late. With Jonathan Davis' own words : "It seemed pointless to try and recapture shit from '94 in '09."
Check out:
Oildale (Leave Me Alone)
Let The Guilt Go
Are You Ready to Live?
10) Take a Look in the Mirror (2003)
After so many well-critized records, Korn's first creativity problems started with this album. According the guitar player Head and vocalist Davis, this one is the worst album they've ever recorded. I don't think the same. TALITM is not a fully enjoyable record. Tracks like "Play Me", "Let's Do This Now" and "When Will This End" were just dragging the whole thing. Even so, "Right Now" is a great opener and some of the tunes on this record are very cool and catchy. Also, one of the most replayed song of my childhood era was "Did My Time". What a song!
Check out:
Right Now
Did My Time
Y'All Want a Single
9) See You On The Other Side (2005)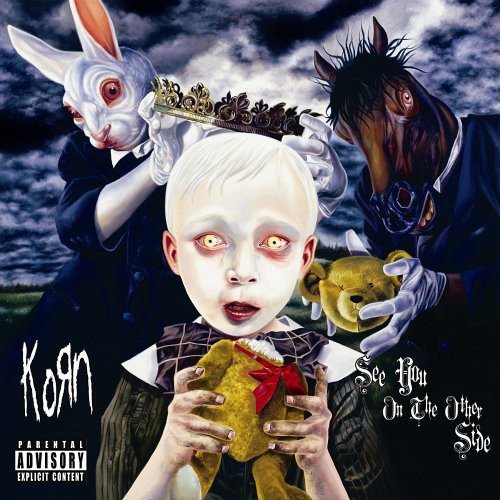 There is nothing "very wrong" about this record. Few of the greatest singles that band released like "Twisted Transistor" and "Coming Undone" are on this album. But that wasn't quite what I expected from Korn. Maybe it would be less pop-ish. That's the only point that dissapointed me. Otherwise, SYOTOS has catchy songs and definitely a step up from TALITM. It was also the signal for Korn's transitional period.
Check out:
Twisted Transistor
Politics
Coming Undone
Open Up
8) The Paradigm Shift (2013)
The reason that The Paradigm Shift is higher than SYOTOS is, I like the heavier sound, okay? Guitarist Brian "Head" Welch left the band after TALITM, this was his comeback record. With his presence, Korn recaptured their heavy sound and made it heavier. Drummer Ray Luzier was in the band since Korn III but never used his full power. You can definitely feel that this album is heavier thanks to his powerful drumming. There were still some dubstep elements left (check out 'Never Never' and 'Victimized' for that) from The Path of Totality era, but this doesn't change the fact that Korn is back with a whole new sound and future. TPS shaped today's Korn even if there wasn't a big change in sound. This was what fans wanted after The Path of Totality.
Check out:
Prey For Me
Love & Meth
Spike In My Veins
Victimized
7) The Serenity of Suffering (2016)
After favourable reviews for The Paradigm Shift, band kept that sound. I'm glad that they did. The Serenity of Suffering was great. Among the best records of that year, for me. Corey Taylor's appearance on "A Different World" and head-banging riff on "Take Me" are definitely worth to hear. And I didn't even mention about the best tracks of the album yet. "Insane" is one of the best album-openers among Korn's collection. And "Rotting In Vain", lyrically and musically, is heavier than your grandma's dinner menu. Maybe we can put "Please Come for Me" and "Next In Line" aside but otherwise, solid record from front to back.
Check out:
Insane
Rotting In Vain
The Hating
A Different World
Take Me
6) Life Is Peachy (1996)
This is where the things get rough. Life is Peachy might be best sounding Korn album. Yes, because of the raw sound. Korn's landmark sound was the first two record. And Life is Peachy is a great listen. This is their sophomore effort and it definetely effected the music industry as the band wanted. David Silveria's drum sound on this record is phenomenal. I believe every drummer out there appreciates Silveria's grooves. Davis' madness-ride "Twist" is only 49 seconds long and it still punch like a kangoroo. "K@#*%!" is still an unnecessary song and a statement for me but it doesn't effect the momentum of the whole thing. Shit just rolls.
Check out:
Twist/Chi
Good God
No Place to Hide
A.D.I.D.A.S.
Ass Itch
5) Follow the Leader (1998)
Follow the Leader was Korn's biggest breakthrough. Some of the rankings of Korn's collection put this one way up higher. Reason for me putting it few row down is, I don't feel like I can connect some of the songs like "All In the Family", "Cameltosis" and "My Gift to You". Also "Earache My Eye" is a very hard track to get into. Rest of the album is full of legendary tunes from Korn. With "It's On!", it's on and fully loaded with atmospherical listen all the way down. All the singles were in full speed and it was a signal for how awesome this record will be. How come we can forget the breakdown part of "Freak On a Leash"? It was a great follow-up for Life is Peachy and made the self-titled first record proud.
Check out:
It's On!
Freak On a Leash
Got the Life
Dead Bodies Everywhere
B.K.K.
4) The Nothing (2019)
Latest record of nu metal giants is a great collection of heavy riffs and catchy choruses. It's like Korn perfected the formula that they're using since The Paradigm Shift. And also this is the most emotional and darkest Korn album yet. Before the release of The Nothing, Jonathan Davis lost his wife, just after few months he lost his mother. He was in a deep depression and you can feel that in this record in every way. Anger, tears, hysterical laughters… This is, no doubt, most personal record for him and many of the band's long time listeners. You can feel the anger with "Cold", "You'll Never Find Me" and "H@rd3r". Tracks like "The Darkness is Revealing" and "Can You Hear Me" is among the band's darkest tunes. "This Loss" is very hard to listen because of the pain that pouring between the lines. And "The Ringmaster" is just insanely beautiful and catchy. Korn, delivered another masterpiece after 25 years of their career. Not one bad song.
Check out:
Cold
You'll Never Find Me
The Darkness is Revealing
Idiosyncrasy
The Ringmaster
This Loss
3) Untouchables (2002)
Untouchables is a very underrated album. It's Jonathan Davis' second favorite Korn record and I can see why. This is the first record that Korn tried something different. Heavier guitar tones, filled up drum sound and hell of a vocal performance by Davis. Album starts off with heavier Korn riff yet; "Here to Stay". And this song delivered a shiny Grammy. The reason that Untouchables is a special record for me; it has "Thoughtless" in it. My all time favorite Korn song. And with "Alone I Break", I believe Davis delivered one of his best vocal performances. This is a heavy, catchy, emotional and great sounding record. It's clear that today's Korn sound still feeds on this great tunes. Must listen.
Check out:
Here to Stay
Blame
Bottled Up Inside
Thoughtless
Alone I Break
No One's There
2) Issues (1999)
This album is insane. Like the meaning of the exact word: Insane. This kind of song collection can't be a product of a clear mind. Those guys put everything on the table with this one. Well, actually they already did that with their first record but they did it again. Among all the records in Korn discography, Issues has the most unique sound. Life is Peachy could be a landmark when it comes to sound, technically. With Issues, this uniqueness is about emotions. First melodies of "Falling Away From Me" and "Somebody Someone" prooves that statement. Also, go listen "Make Me Bad" for learn how to be heavy with a simple riff. Korn's ability to create a great emotional atmosphere reached to the top levels with this tremendous album.
Check out:
Falling Away From Me
Trash
Beg For Me
Make Me Bad
Wake Up
Somebody Someone
1) Korn (1994)
This is it. The first step. One of the most controversial metal records of all time. I already mentioned how Korn terrorised the music industry when they created a whole different genre with their self-titled first record. So, you should've seen this coming. Putting their first record on number one on this list might get you thinking like "did they ever beat their first record?". This would be a very wrong perspective. For me, Korn's first record might be their best work but that doesn't mean that it's all downhill from here. Self-titled is like a father to all Korn records and all nu metal records also. Even Korn's attempt to recreate this masterpiece has failed. Opening of "Blind" has the most famous nu metal line. "Ball Tongue" is so raw and heavy. "Divine" is just crushing. "Shoots and Ladders" is an insane masterpiece. And finally there is "Daddy". It's about Jonathan Davis' past and how he was molested by his babysitter as a child. This might be the hardest song I've ever heard. The pain in it is just unimaginable. After 5 minutes, rest of the song is all about Davis' sobbing, cursing and crying. Even his band members couldn't believe his hysterical breakdown. Here is Davis' and producer Ross Robinson's own words:
Davis: It was just a special moment that I did not know was being recorded, for one, because Ross is a prick and kept the fuckin' tape running.
Robinson: And it's all live. No overdubs.
That kind of pain and reality we're talking about. And that created one of the most intense song ever recorded. Not for the weak, believe me.
And because of all that, Korn's self-titled debut record is deserves to be an all time classic. Not just for Korn, it's a milestone for metal music and especially new genre nu metal.
Check out (if you insist):
Blind
Ball Tongue
Need To
Clown
Faget
Shoots and Ladders
Daddy