If you want me to describe Idle Hands and their first record Mana, I would simply say; perfection includes fresh perspective with nostalgic heavy metal and gothic rock elements. These guys have a solid proof that there are still badass heavy metal tunes out there that we have missed so much.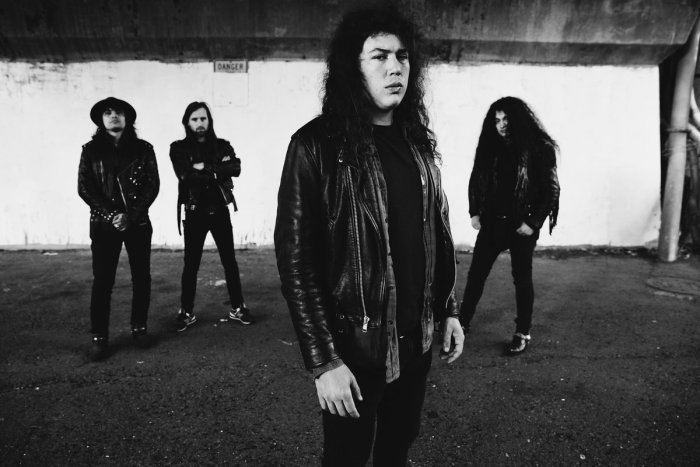 Their debut record Mana released last month and since that day we're banging our heads with it. Vocalist/guitarist Gabriel Franco answered our questions about their debut record, tour plans, his personal influences and more.
Berke: Hello, Gabe. First of all, congratulations for releasing one of the best records of 2019. What kind of difficulties you have been through during the process of release and distribution?
Gabriel Franco: That's quite an accolade, thank you. Well the release was supposed to be in April, but recording went over the planned time limit so Mana didn't come out until May 10th as you might know. That was the only real hiccup. We had other problems, such as not printing enough vinyl. They were sold out the day we released the record. Not a bad problem to have. In repress right now.
B: How was songwriting process for "Mana" and how it become different from Spellcaster records?
G: Spellcaster was a democracy, and because of this we mostly only wrote at band practice. Aside from drums and some of the guitar solos, I wrote and arranged all the music on Mana and DWYT. I basically sit in my room alone, lay out some chord patterns for a song, all very simple stuff, when I first play through these songs they sound boring and horrible, but then I add layer after layer until they each have their own unique identity. I do this by just looping a progression and playing melodies until one sticks. Then if you find one that sticks you can use that as a theme and move stuff around. Lyrics come at the very end, and for that I just walk around the neighborhood listening to the song.
B: What was your most memorable moment with Idle Hands?
G: There's hundreds of them already. Keep It True was amazing, Osnabruck, Goppingen, Kamen, Athens, Leipzig. Tons of insane shows. I really enjoyed the end of this last tour. Playing the final show and just having a moment to myself, it was a beautiful day and I just took in all we had done. Said to myself "Cool, onto the next adventure" and off we go.
B: What was that "one spark" that got you into your musical journey?
G: There were a few. I realized I liked heavy metal when a friend showed me Cradle Of Filth covering "Hallowed Be Thy Name" by Iron Maiden. Then when I saw them live, I knew I wanted to play music and see the world. I promised myself I would someday play the same stage as they were. A theater in Portland. Looks like I'm gonna be doing that early next year.
B: What are your personal influences, in and outside of music?
G: I like to ride my bike. I don't know, I just watch what goes on in the world and think about it. I'm not a huge movie or art buff. My life is slowly becoming just music and emails I think.
B: Here's a typical and tough question: If you asked for the greatest record of all time, which record would be your answer?
G: There is no right answer, but there are a million wrong ones. My favorite record front to back is Metallica – Master Of Puppets, close second is Sisters of Mercy – First and Last and Always.
B: I believe every musician has one special place for inspiration. Do you have any magical location?
G: No, I just need to be completely alone. I am very easily distracted. Since I write most of the stuff in my room, I would say my bedroom is my spot.
B: Mana is a very strong record from beginning to end. And you received brilliant reactions. It might be little early for this question but what future plans do you have, right now?
G: No no, never to early. We have a ton of future plans, especially touring wise, but most I can't tell you right now. I will say album 2 will probably come out in 2021. Maybe sooner we will see. Our next show is Psycho Las Vegas on August 15th. Followed by Vancouver Island Metal Fest the following weekend. Then a big tour in the fall and next spring. We will likely be back in Europe next January as well. All is moving. The stage show will get bigger, everything will get bigger.
B: I'm really enthusiastic about seeing you guys live. As part of your tour, are there any chance for a Turkey concert? Or anytime further?
G: Point a promoter my direction and we can make it happen of course, someone just has to bring us there. I would love to make a Turkey concert happen.
B: Since there are many records released and will be releasing this year, which new records are you currently listening and which upcoming records are you most anticipate?
G: I'm anticipating the new Eternal Champion, Power Trip and Visigoth albums, whenever they come out. I'm really bad at listening to new releases, but Bewitcher has a solid album out right now.
B: Thank you for your time, it is our pleasure to do this interview with you. Much love and respect from EAOMAG team.
G: Thank you!